16. Oktober 2006
Nachdem wir die Zugfahrt nach einer weiteren strengen Woche so richtig genossen, wir fühlten uns wieder etwas wie auf Reisen, wurden wir am Bahnhof in Utrecht von Marko abgeholt. Dabei hatten wir jedoch einige Schwierigkeiten, da der Bahnhof gerade im Umbau war und wir zweimal den falschen Ausgang erwischten.
After a nice trainride, we felt a little bit like back on our journey, Marko came to pick us up at the station. We had some problems to find the exit because of the construction works at the station but finally we found him.
Soon-Hye und Marko haben wir in Vietnam kennengelernt. Sie waren damals ebenfalls auf dem 3tägigen Halong-Bucht Trip und danach liefen wir uns das eine oder andere Mal in Vietnam in einer nächsten Stadt wieder in die Arme, das war recht witzig.
We got to know Soon-Hye and Marko in Vietnam. They booked the same 3day HalongBay Trip as we did and after this trip we met occasionally in other villages on our way down to Ho Chi Minh (Saigon), this was really funny.
Mittlerweile war fast ein Jahr vergangen und ein Souvenir von Vietnam auf die Welt gekommen 😉
It was nearly a year ago when we first met in Vietnam and in the meantime a Souvenir from Vietnam was born 😉
Wir hatten uns natürlich viel zu erzählen am Freitagabend und etliche Photos zu betrachten voneinander. Am Samstagmorgen nach gemütlichem Frühstück hatten die Beiden etwas spezielles geplant, nachdem wir im gutbesetzten Zug nach Amsterdam gefahren waren hiess es nun mit eigener Muskelkraft die Stadt zu besichtigen.
On friday evening we had a lot to talk about and with the photos we had a revival of our holidayfeelings. Saturdaymorning after a homey breakfast they have planned something special. We took the train to Amsterdam and from there we explored the city by bike.
Bald hatten wir aus diesem Fahrraddschungel unsere Drahtesel ausgelesen…
Shortly we had choosen a bike out of the bunch…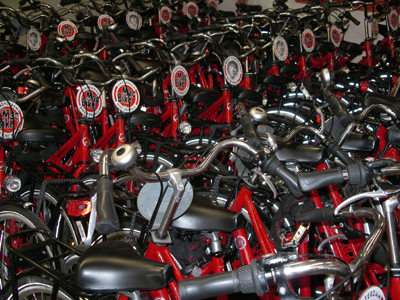 …und es konnte losgehen!
…and we were ready to start!
Anfangs war uns das Wetter noch nicht so freundlich gesinnt doch Spass hatten wir trotzdem 🙂
At the beginning the weather wasn't in his best mood, but anyway we had fun 🙂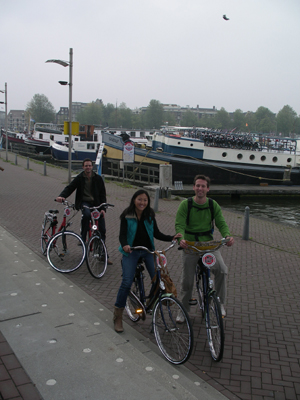 Vorbei ging es an modernen Gebäude wovon es in Amsterdam nicht wenige hat
Driving along modern buildings whereof there are not only a few
Musikhalle
the music hall
an verschiedenen Häuserfassaden, wobei jedes Haus ganz anders aussieht (in der Schweiz nicht vorstellbar, aber hat doch auch seinen Reiz, oder?)
along different facades, and each of them looks really different (not imaginable in Switzerland, but they have there own charm, don't you think?)
durch schöne moderne Wohnquartiere
through beautiful modern residence quarters
und eigenwilligen Konstruktionen
and special constructions
und natürlich durfte ein gemütlicher Mittagshalt im Freien an der herrlichen warmen Herbstsonne nicht fehlen!
and of course we could't resist to take a comfy rest at lunchtime out in the green under the lovely warming autumnsun

Natürlich mussten auch die Karten neu studiert werden, damit wir auch ja nichts verpassen 🙂
Of course the maps had to be studied once again to be sure not to miss anything 🙂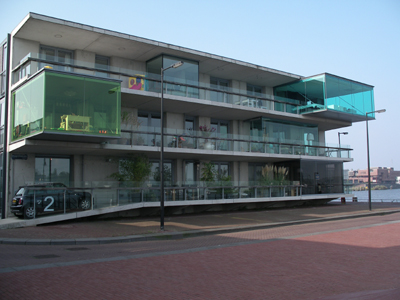 Dieser Block öffnet den Bewohnern den Blick direkt aufs Meer und die beiden herausragenden Kubus zeigen die unterschiedlichsten Nutzungsarten.
This building opens the view directly to the sea and the two prominent cubes show the different exploitation possibilities.
Während der blaue rechts oben das Schlafzimmer darstellt (das muss ein herrliches Erwachen sein) hat wohl bei der Familie links im grünen Kubus das Kind das sagen, denn die beste Aussicht bekam das Kinderzimmer!
On one hand the blue one is a bedroom (wow that must be a exquisite wake up) on the other hand in the family with the green cube probably the child decide what should be fact, in the green cube is located the nursery with the best view on the world!

Auch "Klein-Venedig" haben wir in Amsterdam gefunden
We could as well find "little venice" in Amsterdam

und natürlich darf eine richtige Windmühle nicht fehlen, sonst glaubt uns ja niemand dass wir in Holland waren 😉
Certainly a real windmill has as well to be posted on this page, otherwise nobody would believe that we were in the Netherlands 😉
Doch eigentlich sind die vielen Fahrräder bereits Beweis genug in welchem Land wir uns befinden (ach nein, das könnte ja auch China sein)
But actually the bunch of bikes should be proof enough in which country we were (ok, you're right it could also have been in China)
Wir hatten auch noch das Glück ein Ruderrennen durch die Grachten beobachten zu können, das war eine Meisterleistung durch die schmalen Tunnels zu zirkeln, denn sobald sie drin waren mussten alle Ruder eingezogen werden, denn es war zu schmal!
We were lucky to watch a part of a rowing competition in the canals. It was outstandig how exact they had to steer to find the way through the narrow tunnels. In the tunnel al rudders had to be hold into the boat to pass the hole.
Abends führten uns die Beiden dann, wie könnte es anders sein, in ein asiatisches Lokal, schliesslich haben wir uns ja in Asien kennengelernt. Das Restaurant war wie eine Lounge eingerichtet, man sass oder lag auf Sofas und konnte gemütlich die verschiedenen Köstlichkeiten geniessen, richtig zum entspannen.
In the evening the two of them showed us an asian lounge restaurant. We sat or lay down on a big sofa and enjoyed the fantastic food and relaxed.

Danach gings noch für einen "Verteiler" in eine Bar mitten in Utrecht, Prost !!!
After the men had to have a "Digestif" in a bar in the middle of Utrecht, cheers!!!
Und beim durch die Gassen schlendern genossen wir die wunderschöne Atmosphäre von Utrecht.
On the way home we enjoyed the nice athmosphere of Utrecht by night.
Am nächsten Tag musste dann mal noch etwas für die Bildung getan werden deshalb gings auf die
ArchitekTour in Utrecht
Das Educatorium, eine Bildungs- und Forschungsstätte, gebaut 1992-97 von OMA, Rem Koolhaas und Christophe Cornubert
The next day an architectural excursion to two famous buildings in Utrecht was planned.
Das Schroder House, gebaut 1924-24 von Gerrit Rietveld

Eine Innenansicht

Aber das war's dann auch schon wir wollten ja Utrecht auch noch bei Tage sehen.
This two buildings were enough we wanted to see as well the city by day.
Die Studentenstadt hat sehr viel Flair und ist weniger hektisch wie Amsterdam.
The students city is really charming and less restless than Amsterdam.
Wir schlenderten durch die Gassen
We strolled through alleyways
genossen die Herbststimmung und schalteten so richtig ab.
enjoyed the spirit of autumn and forgot the stress of the daily business.
Ein weiterer Unterschied von Amsterdam zu Utrecht ist, dass in Utrecht die Grachten tiefer liegen, das hat den schönen Nebeneffekt, dass das Blätterdach auf Augenhöhe der Spaziergänger ist und die Promenade am Wasser im Sommer als Terassen für Restaurants dienen.
In comparison to Amsterdam the canals in Utrecht are lower and therefore the green of the trees are better visible by walking around the streets. The free space down at the water is used during summertime from restaurants as patios.

Dann kamen wir noch an diesem eingepackten Fahrrad vorbei, die wussten anscheinend, dass wir es nicht schaffen unseren Bericht vor Weihnachten zu veröffentlichen 😉
One weird things was the wrapped bike below, probably they knew that it becomes Christmas until we achieve to post this article on our websites.
Der Kirchturm von Utrecht ist imposant hoch und genau da rauf wollten wir noch…
The Churchtower of Utrecht is impressive and excatly up there we wanted to go…

und schon bald hatten wir die Hunderten von Treppen geschafft und konnten das wunderbare Panorama geniessen
and shortly after a hundreds of stairs we were able to enjoy a spectacular view over Utrecht

Der kleine Matthew war so brav und hatte sich nach dem ausgiebigen Spaziergang sein Essen redlich verdient.
Little Matthew was the whole time so quiet and deserved after a long walkingtour his goody ;-).
Der Kurztrip nach Holland war wunderbar. Wir konnten abschalten, ausspannen, zwei schöne Städte kennenlernen und vorallem und das ist das schönste wir haben drei wunderbare Menschen näher kennengelernt und freuen uns bereits auf das Wiedersehen in der Schweiz 🙂
This shorttrip to the Netherlands was fantastic. We could slow down, forget, enjoy and got to know two beautiful cities but the most important we got to know better three wonderful people and are really looking forward to welcoming you in Switzerland 🙂
An dieser Stelle nochmals herzlichen Dank für Eure Gastfreundschaft und das spezielle Wochenende und bis bald 🙂
We would like to thank you once again for your hospitality and the extraordinary weekend and see you soon:-)!
Soon-Hye und Marko mit Matthew
---