We were curios if we would end up at the airport or will fly with Royal Nepal Airlines to Bangkok, because we heard different stories about the reliability of this Airline. But we only had to be patient because every step we had to go at the Airport was still closed when we arrived. First the airportdoor was locked, then the check-in desk was still closed, as well as the passport control and the security check. But finally we got on the plane and took-off. The flight was amazing, we could see the mountains we were supposed to see in Nepal, even Mount Everest showed us his best side. Unfortunately we don't have pictures out of this flight, but they are in our mind :-).
We arrived in Bangkok and it was a bit hotter than in Nepal, but not as humid as we expected. At the Airport it was very easy to find a shuttle to town and we already liked this city. Already the very first day we got caught by the amenities a big international city like Bangkok has. Katja found a Delifrance and couldn't resist to make a special order for a crispy, fresh wholemeal baguette filled only with butter. You can't believe how good a piece of bread can taste after monthes of fluffy toast bread!
But this shouldn't be the last enjoyable food and experience for this day…
In the evening we bought two tickets for a movie in a big movie theater. And if you know Katja, a movie can't start without a big box of popcorn on the knees. Actually the first box was already finished before the movie started and we had to get another one ;-). We enjoyed this day and night back in "civilization". Don't missunderstand this, we like travelling, but sometimes it's nice to have the possibility to have some luxury again. The next day we spent by looking for a new accomodation at the famous Khao San road, the backpacker road in Bangkok. We ended up in a Hotel with airconditioned rooms and a roof top Swimming Pool.

(Thanks for this great hint, grisu 🙂 )
We decided to stay there and make our stay a little bit with beach feeling instead of travelling already south to the beaches of Thailand, because there they still have monsson season. During this days we made not a lot of sightseeing because we know, we will be back in town and at the moment we just wanted to get some energy to go further on. We just strolled around at the Khao San Road,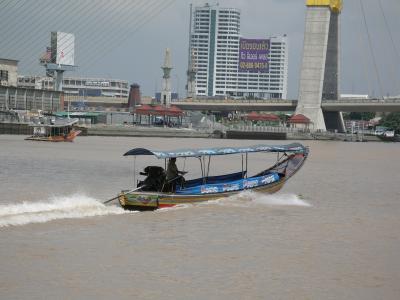 took some rides in a boat on the What Phrat River,

checked out the know how of a tailor,

had a look at the weekend market
and organized our Vietnam Visa and busticket to the North.
The first stop to the north was in Phitsanulok, our base to go to Sukothai the next day. In Sukothai there are a lot of ruins and temples of the time the Khmer were also active in Thailand from the 9th to the 13th century. It lookes somehow like in Cambodia in Angkor What. And we were happy to have the chances to see this nice sight in Thailand, because we don't have time to visit Cambodia during this trip.
The next day we drove to Lampang, where we wanted to organize a special mahout training day at the only Elephant training center in Thailand. After the first contact we were really disappointed because we just missed the start of a tree day course and the next which will start is too late for us and they didn't arrange one day courses like written in our guide book. So we decided to visit the Center and hospital the next day just like tourists. After a ride in a shared taxi "Sawngthaew"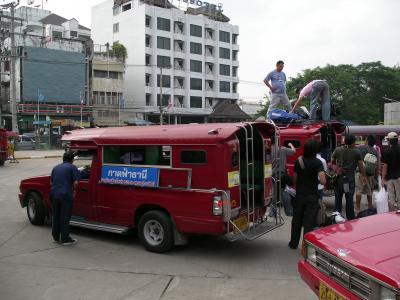 a 3rd class bus with fan and 5 seatrows brought us from Lampang bus station to the Camp.
Once again we couldn't fit on the benches (probably after our trip, when we have lost some weight, we would fit on them, but not now 😉 ). We just arrived when the Elephant bathing started and we saw other tourists on the back of the elephants bathing and cleaning them.
Afterwards there was a show where the elephants showed the skills they learned in the camp to be able to work in the jungle.
They learn to push, carry and staple trunks with their trunks

and they also know how to paint!
The elephants know to walk backwards or turn around on a trunk if the way in the jungle is too narrow. It's really impressive what an elephant is able to learn and to do! After this show we were pretty sure, we wanted to try once again to have some training with the elephants as a mahout (elephant trainer). After some discussions with Pat, the guy who organises this trainings (thanks once again, that you made it possible for us!) we had found a special deal for a training just for the two of us, but we had to start immediately.
Therefore he organised a special transfer back to the hotel for us, to pick up some clothes and sanitary items and an hour later we where already back and dressed as Mahouts to start the first training session with the elephants.